Philippines in 30 Days During Wet Season // Itinerary
When we came up with the "crazy" idea to travel the world, our first step was to make a list of countries we had to visit. The Philippines was number one on that list! Not only for their exquisite beaches but because Mark was born in Manila and had not returned since the age of 2 so we knew we had to cover a lot of ground while we were there.
We were only allotted 30 days in the Philippines, which consists of over 7,000 islands, so to say we were a little overwhelming is an understatement. And to top it off, we were there just in time for the wet season so we were nervous about getting rained out of everything, which thankfully only happened once.
Below you will see a (detailed) 30 Day itinerary along with what we paid for most accommodations and activities. I have linked our YouTube videos if you'd like to see what it's like to sleep in the middle of the ocean and have a crab sneak up on you, or how incredible it is to swim with whale sharks, and/or how we split our time traveling through Palawan by bus.
As always, comment below with any questions or send us a chat!
TOTAL PH PESO $97,894; TOTAL USD $1,962
(50 PHP ~ $1USD)
30 DAY ITINERARY
SUNDAY, MAY 28, MANILA
03:00 Arrived to Manila International Airport and "slept" in terminal
09:00 Early check-in to our Airbnb (880 PHP/ $18 USD per night)
16:30 walked to Robinsons Mall to meet Mark's family for the first time.
MONDAY, MAY 29, MARK'S BIRTHDAY, MANILA
Morning: Edit YouTube Videos
18:00 - Dinner with Mark's family at Cabalen
TUESDAY, MAY 30, MANILA
14:00 Walked to Manila Ocean Park
14:30 Intramuros Tricycle tour (100 PHP)
14:45 Visit The Gardens (75 PHP/person)
15:20 San Augustin Church Museum (100PHP/person)
16:00 Dinner across street, not worth mentioning
WEDNESDAY, MAY 31, MANILA
Workday
THURSDAY, JUNE 1, QUEZON CITY, MANILA
14:00 Quezon city circle. Met with Marks family one last time. Uber was 500PHP/$10USD round trip (1-hour drive w/ traffic)
FRIDAY, JUNE 2, PALAWAN - PUERTO PRINCESA
9:30 - Manila to Puerto Princesa. Including 20k luggage (8,223 PHP/$164.70 USD)
11:00 - Early check-in into our Airbnb - Awesome wifi and included breakfast (1200PHP/$24USD per night)
14:00 - Attempted to get the underground river set up but ended up going with a tour company - Iconquer PH Travel (1700PHP/$34USD per person)
Saturday, June 3, SABANG, PALAWAN
7:30 Underground river pickup to Sabang
11:00 zipline (550PHP/$11USD per person)
12:00 lunch (included in tour)
13:20 Underground river tour begins
15:00 Drove home
18:00 Watched sunset at the harbor bay walk
19:00 Dinner at the bay - street food
Sunday, June 4, PUERTO PRINCESA
Workday
Monday, June 5, PUERTO PRINCESA > PORT BARTON
13:00 Bus from San Jose Terminal to Port Barton (100PHP for tricycle + 300PHP each)
17:00 Check in: Miguel's, private room (500 PHP/ $10USD per night) - No AC and no power between 00:00 - 17:00
18:00 walked the beach for sunset
20:00 Ate at local restaurant on the beach. not worth recommending
Tuesday, June 6, PORT BARTON
10:00 Island hopping with Miguel's brother - totally worth it! (700PHP/$14USD per person)
14:00 back to room, shower, edit
20:30 Dinner with friends
Wednesday, June 7, PORT BARTON > EL NIDO
13:00 Bus to Port Barton (400PHP/$8USD per person). Regularly 500PHP/$10USD but we had a group of 7 people so we got a discount. Tip: Make friends and negotiate!
17:00 Checked-in - Bnky, included breakfast (1200PHP/$28 USD per night)
18:20 Best pizza at Trattoria Altrové (no wifi, cash only)
Thursday, June 8, EL NIDO
09:00 Tour A - private boat with 7 people through 45 Islands Travel and Tours (1200PHP/$28 USD per person)
18:20 Drinks with the gang
19:30 Pizza at Altrovee
Friday, June 9, El Nido
Pouring rain = edit
13:00 Lunch at Artcafe (decent wifi)
22:00 Pizza at Altrové (no wifi)
Saturday, June 10, El Nido
09:00 Tried to do tour C but it was cancelled because of weather
14:00 Bought slow ferry tickets at Sonny Sails for 1100 PHP / $22USD each
14:30 Lunch at Artcafe for their wifi
18:00 Dinner at Altrové
Sunday, June 11, EL NIDO > CORON
08:30 Ferry didn't leave on time
15:04 Arrived to Coron
15:30 Check in Luis Bay (600PHP/ $12 USD per night, private room, no ac)
16:30 Ate at Lolo Nonoy's - Delicious Filipino food!
18:30 Coffee for the WiFi
19:00 Purchased scuba Sanho Dive Center (3500PHP/$70USD per person)
Monday, June 12
14:00 Scubba
15:30 Coffee and edits
19:30 Dinner at Altrové
21:00 Purchase Escape Tour (1400PHP/$28USD per person)
Tuesday, June 13
09:00 Escape Tour
18:00 Watched sunset at the pier
19:00 Dinner at Kawayanan Restaurant (little far but happy hour 2 for 1 beers after 9pm)
Wednesday, June 14, CORON > CEBU
13:00 Van to Caron Airport from Luis Bay Hostel (300 PHP)
16:30 - Flight to Cebu City (6,345 PHP/ $127 USD)
18:30 - Arrived to Cebu City
20:00 Check into G&B Hostel (750PHP / $15USD per night)
20:30 Ate street food across the street from hostel
Thursday, June 15, CEBU
15:00 Lunch at CnT Lechon
17:00 Toh Temple (Free)
20:00 Best Western Hotel to meet with friends
Friday, June 16, CEBU > BOHOL, PANGLAO ISLAND
12:00 Uber from hostel to catch ferry to Bohol
13:30 Ferry to Bohol (410PHP/$8USD + 25/$.50 terminal fee per person)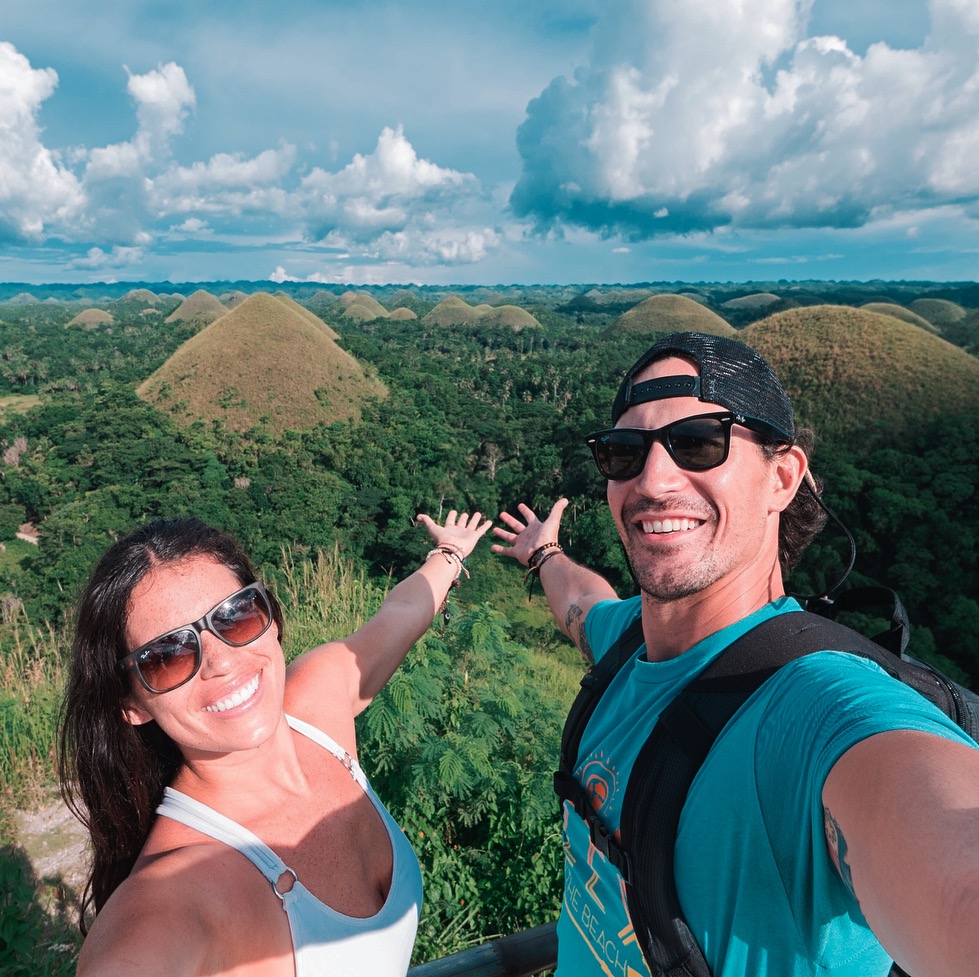 15:00 Arrived in Bohol
15:10 Van for 300PHP/$6USD to our hostel. Be sure to negotiate. Tell them you want to go to Coco Farm for 300 and you'll find someone to accept.
16:00 Check in Bohol Coco Farm (800PHP/$16USD night, including breakfast or 350 per person)
16:30 Lunch at hostel (they have delicious mango smoothies)
18:00 Sunset at White Beach
Saturday, June 17, BOHOL
10:00 Delicious breakfast included
10:45 Motorbike around island (500PHP/$10USD for 24 hours)
11:30 Python Sanctuary (45PHP each)
12:40 Twin Bridges (20PHP each)
13:20 Man-made forest (free)
14:45 Tarsier Sanctuary (60PHP each)
16:00 Chocolate hills (50PHP each)
18:30 Played basketball with locals
20:30 Dinner at a random bar
Sunday, June 18 BOHOL
15:00 Cliff jumping + motorbike rental (30PHP + 400PHP)
18:00 Sunset at sunset beach
19:30 Snacks at 7Eleven
Monday, June 19, BOHOL > DUMAGUETE
10:00 Tricycle pick up for ferry to Dumaguete
12:00 Ferry to Dumaguete (500PHP/ $10USD + 20PHP terminal fee per person)
14:00 Check into Flying Fish Hostel
16:00 Walked to city center (far walk)
Tuesday, June 20, DUMAGUETE > MANJUYOD
07:00 Bus to Manjuyod from the corner street, not the bus terminal (70PHP/ $2USD total)
09:00 Arrived to the Tourism Office in Manjuyod to pay (4000PHP/$80USD per night - includes transportation to and from)
09:15 Tricycle to local market to get food (should have done that before)
11:10 Made it to the bungalow on the water
Watch our Manjuyod Experience
Wednesday, June 21, MANJUYOD > OSLOB
04:45 Sunrise
07:30 Ate sea urchins
08:50 Boat picked us up
10:00 Bus back to Flying Fish Hostel to pick up our big backpacks
12:00 Tricycle to Sibulan Port Terminal
12:30 Only a 20 minute ferry to a bus that will drop you off in front of Sharky Hostel
14:00 Check in Sharky 600php / $12USD
14:10 Bus to ATM in Santander (next town south)
20:00 Dinner next door
Thursday, June 22, OSLOB> MOALBOAL
04:45 Wake up
06:00 In water with the whale sharks (Watch us swim with Whale Sharks)
07:00 Shower and breakfast
09:30 Sumilon Island/ Sandbar (Don't bother if it's not in season)
12:00 Back to the hostel
16:30 Bus to Moalboal (174PHP/ $3.50USD total + 60PHP tricycle to hostel)
18:40 Arrived to Moalboal
18:55 Check in to Le Village (600php/$12USD per night)
19:30 Dinner at Le Village
Friday, June 23, MOALBOAL
08: Breakfast and rent scooter
10:00 Arrived to Kawasan Falls (40php per person)
17:30 Walked to ChiliBar and watched sunset. Mark swam with sardines
18:00 Tried Tuba for first time
Saturday, June 24, MOALBOAL > CEBU
11:00 Cockfight
12:00 edit videos
18:30 Bus to Cebu City (250PHP/$5USD total)
21:00 Bus arrived to terminal (last stop)
21:00 Hung out at 7 eleven and had "dinner"
24:00 Arrived to airport
Sunday, June 25, CEBU > BORACAY
05:00 Flight to Boracay (5,629 PHP/ $113 USD)
06:05 Arrived in Boracay
0:10 Picked up bags, walked to tricycles (50PHP) and pay for ferry 25 PHP per person
plus an environment and terminal fee (75+100PHP per person)
07:00 Tricycle from Boracay Pier to Station 2
07:30 Check in - 1000PHP/20USD per night
07:40 Walked the beaches
14:00 Laid out and walked Iligan beach
19:30 Tried Jollybees for the first time
20:30 Jeepney for halo-halo
Monday, June 26, BORACAY
Scheduled to do a private tour but mark was sick. Lost 500 PHP
Tuesday, June 27 // KALIBO > SINGAPORE
06:30 Checkout
07:00 Met with coordinator to get to the airport. We were being lazy. You can easily do this yourself and save money.
09:00 Arrived to Kalibo Airport
13:00 Flight from Kalibo to Singapore, Cebu Pacific Air, including 20k luggage 14,274PHP/ $285USD
14:30 Layover in Manila
15:20 Went to SM Mall and ate at Cabalen ($5 Uber ride)
20:00 Flight to Singapore
TOTAL PH PESO $97,894
TOTAL USD $1,962
VIDEOS OF OUR FAVORITE DAYS IN THE PHILIPPINES